Joe Rossignol
While new iPhone and Apple Watch models are typically unveiled on stage at a September event, 2020 has been anything but an ordinary year, so there is a good chance that Apple's fall product announcements will deviate from the norm at least slightly.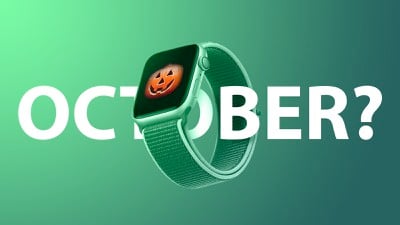 At the very least, it is unlikely that Apple will hold an in-person iPhone event this year, unless it were limited to a small group of journalists. Similar to its WWDC keynote in June, Apple may be forced to introduce new products with an online presentation, possibly along with press releases shared on the Apple Newsroom.
Last month, leaker Jon Prosser claimed that new Apple Watch and iPad models would be announced via press release during the second week of September, followed by a presumably-virtual iPhone event in October. However, another proven leaker who uses the alias L0vetodream has since claimed there will be "no Watch this month."
there is no Watch this month
— 有没有搞措 (@L0vetodream) September 2, 2020
The same Twitter account has revealed several accurate details about upcoming Apple hardware and software, including the launch timing of new iPhone SE and iPad Pro models earlier this year, the marketing name macOS Big Sur, the hand washing feature in watchOS 7, the handwriting-to-text feature Scribble in iPadOS 14, and much more.
If accurate, this tweet lends credence to Japanese blog Mac Otakara's claim that Apple plans to unveil both iPhone 12 and Apple Watch Series 6 models during an event in the second half of October. Prosser himself said that there will be an iPhone event in October, so it is possible that he was simply inaccurate about the Apple Watch timing.
September would certainly feel unusually empty without any product announcements, however, so perhaps Apple will fill this gap with some other products via press release. Potential candidates include a redesigned iPad Air with an edge-to-edge display, a smaller HomePod, Apple-branded over-ear headphones, AirTags, and a new Apple TV.
Top Stories
Bloomberg: Apple Launching iPhone 12, Apple Watch Series 6, iPad Air, Smaller HomePod and AirPods Studio This Fall
Monday August 31, 2020 11:09 pm PDT by Juli Clover
Apple has a number of products in the works that are set to debut this fall, and this evening, Bloomberg's Mark Gurman and Debby Wu shared details on Apple's launch plans, reiterating many of the rumors that we've previously heard about the upcoming product lineup.
There are four new iPhones in the works in 5.4, 6.1, and 6.7-inch sizes, with Apple planning to stagger the iPhone launches. The …
iPhone 12 to Come in 'Dark Blue' Color Option
Monday August 31, 2020 4:13 am PDT by Tim Hardwick
Apple will offer a new "dark blue" model in its upcoming iPhone 12 lineup, according to a new report today.
iPhone 12 Pro in Navy Blue concept via EverythingApplePro/Max Weinbach Hit-and-miss Taiwanese publication DigiTimes claims that a dark blue iPhone color will be available "for the first time" in addition to several new features and specification upgrades coming to Apple's smartphone…
Report: Super-Lightweight 12-inch MacBook Powered By Apple Silicon to Launch This Year
Monday August 31, 2020 2:19 am PDT by Tim Hardwick
Apple has designed a 12-inch MacBook powered by Apple Silicon that weighs less than one kilogram and the company intends to launch it by the end of the year, according to a new report today. Apple's first ARM-based Mac will use an A14X processor, which is codenamed "Tonga" and manufactured by TSMC, and the MacBook will have a battery life of between 15 and 20 hours, according to the…
iOS 13.7 Now Available With Support for Exposure Notifications Express
Tuesday September 1, 2020 10:07 am PDT by Juli Clover
Apple today released iOS 13.7, a major update that comes more than a month after the release of iOS 13.6. iOS 13.7 is an update that's being introduced to roll out a new Exposure Notifications System that does not require an app to be downloaded for the feature to be turned on.
The iOS 13.7 updates are available on all eligible devices over-the-air in the Settings app. To access the updates, …
iPhone 12 Again Reported to Come With LiDAR Scanner
LiDAR is set to see "increasing penetration in consumer electronics devices," catalyzed by the upcoming iPhone 12, according to a new report by DigiTimes.
LiDAR, which stands for "light detection and ranging," first appeared in the Apple product lineup in the 2020 iPad Pro. The technology was primarily used in the automotive industry before coming to handheld consumer technology products….
Apple Expands Exposure Notification API With 'Express' Option That Doesn't Require an App
Tuesday September 1, 2020 9:02 am PDT by Juli Clover
Apple is today releasing iOS 13.7 with a major step forward in the Exposure Notification API that's available for public health authorities to use for their COVID-19 contact tracing efforts. Exposure Notifications Express is designed to provide simpler deployment of regional exposure notifications without the need to develop or maintain an app.
The new Exposure Notifications Express system…
Report: Apple Silicon iMac With Custom GPU to Launch in Second Half of 2021
Monday August 31, 2020 2:24 am PDT by Tim Hardwick
Apple will debut a powerful custom-designed graphics procesing unit in its first Arm-based iMac which is set to launch in the second half of next year, according to a new report today.
Codenamed "Lifuka," the self-developed GPU to feature in the Apple Silicon powered iMac will be produced using TSMC's 5-nanometer manufacturing process, and will offer better performance and be more energy…
Proven Leaker Suggests Apple Watch Series 6 Models Won't Be Announced in September
Wednesday September 2, 2020 7:47 am PDT by Joe Rossignol
While new iPhone and Apple Watch models are typically unveiled on stage at a September event, 2020 has been anything but an ordinary year, so there is a good chance that Apple's fall product announcements will deviate from the norm at least slightly.
At the very least, it is unlikely that Apple will hold an in-person iPhone event this year, unless it were limited to a small group of…