Juli Clover
Logitech today announced the launch of the Logitech Folio Touch, a new keyboard case with trackpad designed for the 11-inch iPad Pro models released in 2018 and 2020.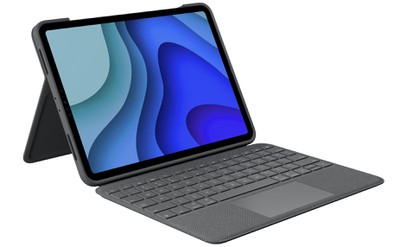 The Logitech Folio Touch is Logitech's first keyboard with trackpad designed for the ‌iPad Pro‌ and it serves as an alternative to Apple's own Magic Keyboard. Logitech previously released the Combo Touch, a keyboard with trackpad that works with the 7th-generation iPad, the ‌iPad‌ Air, and the 10.5-inch ‌iPad Pro‌.
Similar in design to the Combo Touch, the Folio Touch features a case that wraps around the ‌iPad‌ along with a laptop-like keyboard with a built-in trackpad that works with the ‌iPad Pro‌'s trackpad support. There's also an adjustable kickstand to allow for greater positioning flexibility, an Apple Pencil holder, and four use modes that include typing, viewing, sketching, and reading.
The keyboard is powered by the Smart Connector on the ‌iPad Pro‌ so it doesn't need to be charged and doesn't need to connect over Bluetooth. When not needed for typing, the keyboard can be folded back behind the ‌iPad Pro‌, a feature not available with Apple's own Magic Keyboard.
Logitech's Folio Touch will be available starting in July 2020 for $160 from the Logitech website or from Apple's online store.
Top Stories
iPhone Users Who Experienced 'Batterygate' Can Now File to Receive Around $25 Settlement From Apple
Earlier this year, Apple agreed to settle a U.S. class action lawsuit that accused the company of "secretly throttling" older iPhone models. Now, eligible iPhone owners are beginning to be notified about their legal rights and options.
Under the proposed settlement, Apple will provide a cash payment of approximately $25 to each eligible iPhone owner who submits a claim, with its total payout …
Possible 'iPhone 12' Battery Certifications Suggest Lower Capacities Than iPhone 11 Series
MySmartPrice has spotted certifications for three new Apple batteries that it believes could be for the upcoming iPhone 12 lineup, despite them being less capacitive than the batteries in the current iPhone 11 series.
The batteries are identified with the model numbers A2471, A2431, and A2466, and appear on Safety Korea, China's 3C, and the Danish agency UL Demko. Apple is expected to…
iPhone 12 Could Ship With New Braided USB-C to Lightning Cable
Tuesday July 14, 2020 10:57 am PDT by Juli Clover
Apple's upcoming iPhone 12 models could ship with a new Lightning to USB-C cable that includes a braided fabric design, according to leaked photos from ChargerLAB that surfaced on Weibo today (via Twitter users DuanRui and L0vetodream).
The photos depict a USB-C to Lightning cable that has a braided design rather than the standard non-fabric design of the current cables. Apple has never…
Apple Pays Samsung an Estimated $950 Million for Missing OLED Panel Purchase Targets
Monday July 13, 2020 10:03 am PDT by Juli Clover
Apple in the second quarter of 2020 paid Samsung approximately $950 million for not meeting OLED panel purchase goals established in agreements between the two companies, according to display analysts at Display Supply Chain Consultants.
Samsung last week shared guidance on revenue and operating profit for the second quarter of 2020, which included a one-time gain related to its display…
Five Mac Apps Worth Checking Out – July 2020
Tuesday July 14, 2020 2:34 pm PDT by Juli Clover
Apps created for Macs don't typically receive as much coverage as apps designed for iPhones and iPads, so we crated a series here at MacRumors to highlight interesting Mac apps worth checking out. This month's apps focus on productivity and feature great tools for working from home.
Subscribe to the MacRumors YouTube channel for more videos. Twobird (Free) – Twobird is an email app from…
Apple Warns Against Closing MacBooks With a Cover Over the Camera
Friday July 10, 2020 11:12 am PDT by Juli Clover
Apple this month published a support document that warns customers against closing their Mac notebooks with a cover over the camera as it can lead to display damage. Image via Reddit Apple says that the clearance between the display and the keyboard is designed to very tight tolerances, which can be problematic. Covering the camera can also cause issues with automatic brightness and True Tone….
Apple Shares Humorous 'Working-From-Home Thing' Video
Monday July 13, 2020 9:31 am PDT by Juli Clover
Apple today shared a funny video focused on the problems that people working from home have to deal with, including noisy children, chaotic schedules, communication issues, and more.
The video focuses on showing off Apple products and their capabilities that can be useful when working from home, such as the ability to scan a document with an iPhone, mark up a PDF, Siri Reminders, and more.The…
SoftBank Considering Possible Sale of Arm Holdings as Apple Gears Up for Arm-Based Macs
Monday July 13, 2020 2:00 pm PDT by Juli Clover
SoftBank, the company that owns chip designer Arm Holdings, is exploring options that include a full or partial sale or a public offering, reports The Wall Street Journal.
SoftBank is working with Goldman Sachs Group as an advisor, and the explorations are at an early stage. The Wall Street Journal says that it's unknown how much interest there would be in Arm from financial or industry…
Rumor Suggests New Apple App for Windows Could Be Coming Soon
Tuesday July 14, 2020 1:54 am PDT by Tim Hardwick
Apple could be working towards the release of a new app for Windows 10, according to a report this week from an Italian website.
The blog Aggiornamenti Lumia suggests that an app from Apple is "coming soon" to the Microsoft Store, but stops short of providing additional details.
Apple still maintains a Windows version of the iTunes app, which has been discontinued on Mac and replaced by…