Apple will not include EarPods or a wall charger with iPhone 12 models this year, one analyst believes that pricing will still increase slightly compared to the iPhone 11 lineup.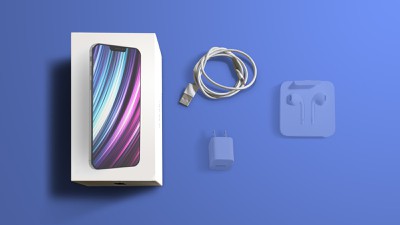 In a research note provided to MacRumors, analyst Jeff Pu forecasted that iPhone 12 pricing will start at $749 for a new 5.4-inch model, an increase of $50 over the base model ‌iPhone 11‌ for $699. Pu said the price is primarily attributed to the addition of 5G and an OLED display on all ‌iPhone 12‌ models, whereas the base ‌iPhone 11‌ has an LCD.
Due to 5G, Pu believes that the price increase will be "accepted by consumers" and "will not affect demand," but the move would generate controversy nonetheless if the EarPods and wall charger are removed from the box as rumored.
Extrapolating on Pu's prediction, the 6.1-inch ‌iPhone 12‌ would likely start at $799 or $849, so customers who want to stick with the same size display as the ‌iPhone 11‌ could be facing a larger $100 to $150 price increase. It's unclear if a price increase would extend to the Pro and Pro Max models, which currently start at $999 and $1,099, respectively.
This prediction contradicts information shared by Jon Prosser, who said the iPhone 12 lineup will start at $649.
Top Stories
5.4-Inch iPhone 12 Model Size Compared to Original iPhone SE and iPhone 7
iPhone 12 dummy models based on leaked schematics have been starting to circulate online and in online marketplaces. Not happy with the circulating size comparisons between the rumored 5.4″ iPhone 12 and the original iPhone SE models, MacRumors forum user iZac took matters into his own hands and purchased his own 5.4″ dummy model to provide more detailed size comparisons between the original…
Hands On With iPhone 12 Models Showing New Sizes and Design
Monday July 6, 2020 2:04 pm PDT by Juli Clover
Ahead of the launch of new iPhones we often see dummy models created based on leaked schematics and specifications, with those models designed to let case makers create cases for the new devices ahead of their release. We got our hands on a set of dummy models that represent the iPhone 12 lineup, giving us our first close look at the iPhone 4-style design and the different size options.
Subscri …
Everything New in iOS 14 Beta 2: New Calendar Icon, Files Widget and More
Tuesday July 7, 2020 11:38 am PDT by Juli Clover
Apple today released the second beta of iOS 14 to developers for testing purposes, tweaking and refining some of the features that are coming in the update. Below, we've rounded up all of the changes that we found in the second beta.
– Calendar icon – There's a new Calendar app icon in iOS 14 beta 2, with the day of the week abbreviated rather than spelled out. – Clock icon – The clock…
Apple Survey Asks iPhone Users What They Do With Old Power Adapters
Friday July 3, 2020 10:13 am PDT by Eric Slivka
Amid multiple reports that Apple will no longer include a power adapter in its iPhone boxes starting with the iPhone 12 later this year, it appears Apple is surveying recent iPhone buyers to ask about what they've done with the power adapters that came with their previous iPhones.
Screenshot via Twitter user @bedabb_ Apple's surveys typically cover numerous aspects of its products, but…
Top Stories: iPhone 12 Rumors, Apple's A12Z-Based Mac mini, Leaked iMac, and More!
With WWDC now behind us, our attention this week largely turned back to rumors, led by increasing claims that Apple controversially won't be including a power adapter in the box with the iPhone 12. We also saw a few other iPhone 12 rumors, signs of an upcoming iMac update, and some more information on timing of updates for Apple's smaller iPads.
The other big topic this week was Apple's…
Shipping Estimates for 27-Inch iMac Continue to Slip, Now Into September
Monday July 6, 2020 6:55 am PDT by Eric Slivka
Amid rumors and hints of a forthcoming update for the iMac, supplies of Apple's current 27-inch iMac continue to dwindle with mid- and high-end stock configurations now seeing shipping estimates pushed back into September.
The 27-inch iMac has seen tight supplies and extended shipping estimates for months now, but the situation has been gradually worsening to the point where new buyers can…
Apple Cuts iPhone Trade-In Values as iPhone 12 Launch Nears
Tuesday July 7, 2020 7:46 am PDT by Eric Slivka
With just two months to go until the usual timeframe for Apple's iPhone launch events, Apple is cutting back on maximum trade-in values of previous-generation iPhones for those looking to upgrade to a new model.
Maximum values on more recent models have dropped by $30–$50, while older models have generally dropped by $5–$20 with a few models seeing no change in value.iPhone XS Max: $500 to…
Logitech Launches New Keyboard and Mouse Accessories for Macs
Logitech today announced a new mouse and keyboard built for Macs, called the Logitech MX Master 3 and Logitech MX Keys for Mac. These new accessories are updates that have been optimized specifically for Apple's MacBook and iMac computers.
The Logitech MX Keys for Mac ($99.99) supports a tactile keyboard with smart backlighting that automatically adjusts to ambient lighting conditions. It…