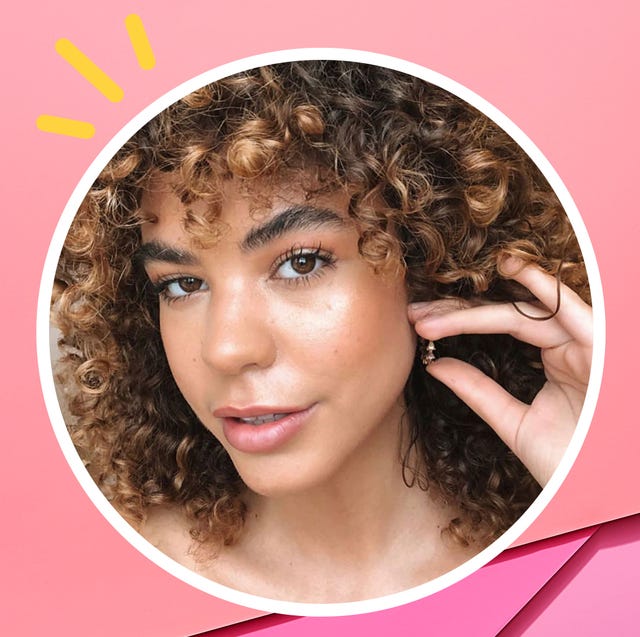 Christine Giordano x Karla Farrelly x Eve Powell x Amber Joy
The arrival of fall brings about the change of many things: iced coffees to PSLs, green leaves to multi-colored foliage, swimsuits to sweaters. Another shift that tends to happen with the cooler weather is a change in hair color. With so many choices, we called on four experts for their input on the best hair colors for Fall 2020.
"We'll be seeing a lot of deep browns with cinnamon tones, blonde tones mixed in with deeper base colors, and lots of plums," says Sess Cannon, owner of Flourish Hair Salon in Dallas. For those concerned with what the winter could bring and whether or not salons will stay open, you'll want to opt for color with minimum upkeep. "Consider keeping a darker root, with fresh face-framing highlights using low maintenance outgrown balayage," says New York-based colorist, Faye Coronado. ICYMI: Balayage is a technique for coloring hair that involves directly painting the hair by hand. Interestingly, all four colorists emphasized that this method is the way to go if you're looking for less noticeable regrowth (Read: fewer salon visits). Basically, expect to see richer, warmer tones, grown-out roots, and playful deep hues.
But before you start collecting inspo for your next salon appointment, make sure you've first chosen a colorist that specializes in coloring your type of hair, as placement is key and unique depending on whether you have straight, wavy, or curly strands. "Different coloring techniques for textured and curly hair such as balayage, pintura highlights, and bigger weaved foiled highlights can give that texture and curl more dimension without the color getting lost in the bumps and coils due to density, reflection, and absorption of light compared to a straight or wavy texture," says colorist and curly hair specialist, Natasha Rivera.
For the latest and greatest fall color hues, keep scrolling.
1
Lived-in Sun-kissed
A good balayage will simply look like you spent the summer in the sun—as seen here. Tell your colorist you want grown out sun-kissed balayage. And, for those who were lucky enough to have actually spent the summer in the sun, simply let your naturally sun-kissed hair grow out!
2
Money Piece
The money piece is a request lots of colorists are getting and will certainly stick around for fall. Feeling bold? Take this trend to a whole new level and let your face be lit up by a rainbow. To keep this style looking…well, money, be sure to invest in the proper products that'll keep the vibrancy. It'll be worth the payoff.
3
Sun-kissed Tips
Adding some light tones to your ends might just be the most low-maintenance way to brighten up your strands. No roots to worry about here. As soon as you get bored of the color, simply set up an appointment for a cut!
4
Light Chocolate Brown
If you have a dark brown base and want to add some dimension, consider adding a few balayage pieces two or three shades lighter than your natural color. And, when it comes to textured hair, balayage still reigns as the best option. "I've found that hand painting color is less harsh and more flattering in the finished look," says Cannon.
5
Chocolate Tones
Have naturally dark brown hair? Listen up: "Brunettes should keep an eye out for a subtle change of more neutral tones", says Coronado. To achieve this look, ask your colorist to paint bleach into your hair until it develops into caramel and ashy tones.
6
Root Smudge
Just because the seasons are changing, doesn't mean "[blondes] should feel obligated to rid their sandy blonde color," says Melissa Condorso of MC Salon in New Jersey. "Adding depth to their hair with a root smudge can give the slight fall change they might be desiring while still feeling bright."
7
Platinum Blonde
With the cooler temperatures on the way, indulge your inner ice queen with a platinum blonde even Elsa would be jealous of. While it's def not low-maintenance, it could be the major change you've been itching for.
8
Charcoal Gray
Starting to notice a few grays peaking through your dark hair? Instead of covering the grays, embrace them, and opt for a smokey charcoal overcast.
9
Dark Brown
Dark brown hair is classic. And classic color never goes out of style. "Every year when fall time comes around every client thinks to color their hair one color: dark rich brown," says Condorso.
10
High Contrast
This look, dubbed "high contrast" by Rivera, will certainly change the reflection you're used to staring at in the mirror! The goal here is to only focus on "face frame piece," says Rivera.
11
Honey Blonde
Rather than jumping from blonde to brown, Condorso recommends considering just choosing a different tone of blonde like a honey or light toffee color.
12
Toffee
Toffee is a great shade for blondes who want to go a bit darker for the fall season. Seeing that you aren't climbing too high on the color spectrum, you'll be able to easily go back to blonde (if you want to) without causing major damage.
13
Burnt Cinnamon
Born with naturally red hair? Well,"Get ready!", says Coronado. "Burnt cinnamon is the way to go this fall".
14
Bronze Caramel
"While a rich chocolate-y brown is beautiful on its own, this fall more clients will be asking for bronze hair painting to complement their rich brown base and still keep them feeling highlighted and dimensional," says Condorso.
15
Cold Brew Highlights
Highlights in a slightly different tone help add dimension but blend in so well that they don't require major upkeep.
16
Ombré
If you're looking to dip your toes vs. dive into the world of pastel shades, opt for this ombre look. Consult your colorist to decide what shade would best suit your base color and skintone.
17
Subtle Balayage
Have natural light brown hair, but want to darken up a bit for the colder season while not compromising on dimension? Condorso advises that "a client can go a little darker while staying in the cool spectrum and add some lighter cool brown painted highlights throughout." Also, be sure to specifically ask your stylist to paint the color in, or simply ask for balayage. "Hair painting will allow clients to go longer between services with a natural appeal, opposed to foiled highlights that will leave you with a line of growth."
18
Babylights
Babylights—aka teeny, tiny highlights—give a similar low-maintenance finish as balayage but you get the color payoff all the way up to your roots.
19
Lavender
Personally, I still can't get over the time Nicole Richie had lavender hair. I never imagined a color so brightly hued could look so good and, dare I say, natural? But if you're like me and have dark roots, this look is a bit harder to achieve. Try blending the color from the top down, as pictured here.
20
Toned Highlights
Looking to keep your visit to the salon quick and inexpensive? Transform your summer color with a gloss that will give you an overall deeper hue while maintaining a soft dimensional blend.
21
Pumpkin Spice
Just like your favorite fall treat, the PSL, many things go into creating this beautiful blend. To achieve this look, you'll need, "an all over base color or balayage highlights toned with a rich cinnamon hue," says Coronado.
22
Fiery Red
Medium skin-toned ladies, listen up! You have the perfect complexion to play with different tones of red. Whether you decide to try a subtle scarlet red, or a blue-red (as pictured), these colors will look fierce on you.
23
Rooted Blonde
Low-maintenance blonde sounds like an oxymoron, but it doesn't have to be. Have your colorist paint your hair from the mid-lengths down while blending with your base. To really brighten up your face, make sure the face-framing pieces begin at the root.
24
Medium Auburn
When Fall rolls around, red is probably one of the most popular colors to dye your hair. And if you prefer to stick to colors that appear more natural, then this one's for you.
25
Sombré
Sombré is basically the most subtle mixture of ombré and balayage. If you are trying out color for the first time, or just want a very born-this-way look, this could be for you. Consult with your colorist to choose a color that is a couple shades lighter than your natural color.
26
Caramel Pecan
Not everyone is ready to commit to a full head of red for fall, and that's okay. If you're starting with a brunette base, tap into the balayage trend with hand-painted lowlights of caramel and auburn.
27
Ripe Plum
It's hard to get bright colors to show up when you begin with a deep base, but certainly not impossible if you find a skilled colorist. If you do decide to enter into the world of purple, be sure to find a shampoo that is sulfate-free, as sulfates strip the color from your hair.
28
Updated Auburn
Slightly lighter ends brighten up this normally neutral tone.
29
Base Breaker
These babylights start just off of the root to make for a more lived-in finish.
30
Pop Of Color
Get your color fix by opting for a shade that blends in with your natural hue and using it as an accent for a fun change that won't require too much maintenance.
31
Pop Of Color Pt. 2
Here's the same idea on blonde hair: barely-there pink.
32
Face Framer
Face-framing highlights not only brighten up your hair, they can also give the illusion of volume thanks to the added dimension.
33
Goldie Locks
Balayage lets you make your ends several shades lighter than your base while still giving a natural finish.
34
Subtle Face-Framer
Tiny highlights around your face add a sun-kissed finish and lighten up your look without being too harsh or being too obvious when it grows out.
35
Bell Bottom
Have your colorist go heavier-handed with highlights on the bottom half of your strands for more of a color boost that won't effect your roots.
36
High Low
A mix of highlights and lowlights gives the most natural, silken finish and helps keep your roots growing out a little more naturally.
37
Curl Pop
Bring curly texture to life by lightening up your ends. It'll give each of your coils more definition.
38
Balayage Bangs
Yes, bangs require a bit more upkeep but on the flip side they also help hide your roots!
39
Caramel Swirl
Streaks of caramel give the usual deep brown autumn fave a glow-up.
40
Rooted Ombre
Get ahead of your roots by going all in on the look before you even get regrowth.
Dana Parra
Dana Parra is the senior manager of Global Licensing & Brand Development for Hearst; When not working, she's scrolling her Instagram feed for news on the latest beauty launches and testing out the latest releases to share her feedback on her Instabeauty blog @TroopBeautyandFrills.
This content is created and maintained by a third party, and imported onto this page to help users provide their email addresses. You may be able to find more information about this and similar content at piano.io